I finally got around to taking pictures of the new collection. ALL of it is not covet worthy, so I just picked my favorites from the bunch and played with them to my hearts content: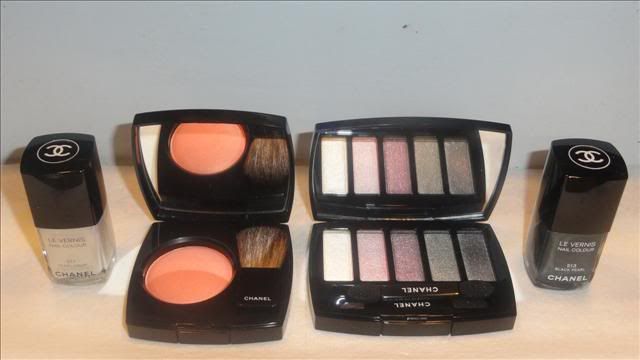 These are the most noteworthy to me: The Pearl Drop Nail Polish, the Espiegle Blush, the Eyeshadow Quint (not going to look up the name right now) and the Black Pearl Nail Polish.
Here's why: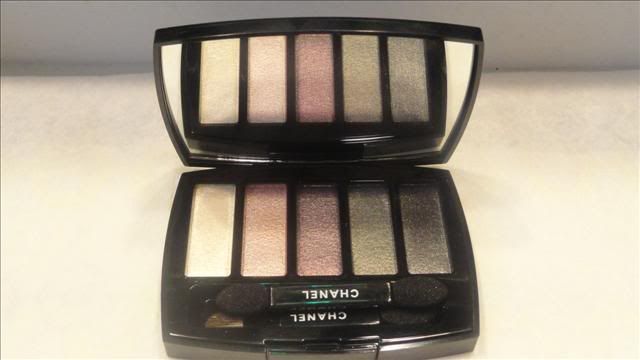 The folks at Chanel REALLY did their homework about what a 'pearlescent' finish ought to look like in an eyeshadow. Both the quint and the Quad (Regard Perle) feature the fabuous pearl-like finish on all the colors. I like the quint better because it's like the naughty big sister of the quad. The colors are deeper, and can (believe it or not) all be used together to create a harmonious blend of color. None of the colors are what they seem... all of them are shot through with undertones of green, violet and gold.
The colors (as you can see ) range as: White Gold, Peach, Berry, Olive and Black. I was impressed by the creamy texture of these shadows, the blendability and the color payoff.
The Espiegle Blush is like the In Love Blush... with a matte boost. This one has greater color payoff, and is brighter. Those of you who shied away from the In Love Blush because of the shimmer, will likely prefer this one. The color goes deeper. And.. I understand this is permanent. That's good news, because I fully intend to get a backup.
These are the best polishes. I didn't care for the Peche polish at all. The pearl drop nail polish is NOT white. It's a white based gold and is simply STUNNING on. It really is the hidden gem of this collection. I'd model it for you, but right now my nails look like I've been playing with sandpaper all day. I'm getting a manicure tomorrow... so maybe I'll add pictures later.
I know that everyone is running out to get the Black Pearl polish (understandably.... it is quite fabulous) but do not sleep on Pearl Drop. It's gorgeous.
That's it! Those are my favorites. I like the quad, the eyeliner and the peach lip pencil... but they're not exactly covet-worthy. These items definitely are.
That's why I'm paying them forward... in a giveaway.
Details coming soon!