So here are swatches of the Chanel quint and the blush and the nail polishes...
Pearl Drop (top)
Black Pearl (bottom)
Forgive my janky nails and application. They're getting taken care of today!
Quint colors... in the order that they appear:
White Gold
Pinky Peach
Greyish Burgundy
Olive Green
Smokey Greyish Black
There's the blush across the top. It looks better on my face. I did a look with the quint and the blush recently...
That's the black and olive and white gold colors. The blush is subtle on me in pictures... and I tend to have a light touch. The color is solid though.
Now to the giveaway...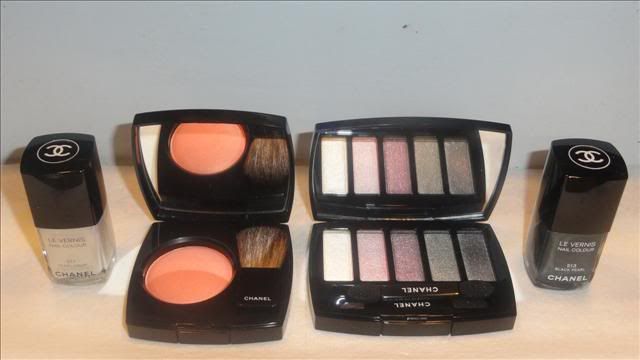 We're going to let this one run a little longer... until January 31st. The same rules apply. You must be a public follow/subscriber to qualify. You can amp your chances by following me @shahadakarim, 'liking' the Adventures In Makeup Facebook Page, linking me to your blogs, linking the giveaway to your blog, and actually blogging about the giveaway.
THE WINNER WILL BE RANDOMLY SELECTED AND ANNOUNCED ON JANUARY 31ST.
GOOD LUCK EVERYONE!